SafeCare BC, Canadian Mental Health Association BC Division, and CheckingIn are working together to produce a podcast and video series for caregivers that will be released in 2023.
We want to hear from you about the topics you would like to listen and learn more about. We are also looking for people who would like to share their own stories of lived experience with mental health.
The podcast aims to reduce stigma around mental health in the healthcare profession and shed light on the difficulties caregivers face, while also providing accessible resources and support for those who need it.
We are looking for individuals who may be interested in participating in any capacity: providing feedback on content, providing suggestions on topics/themes, speaking on the podcast, being recorded for the video series.
To let us know what topics you're interested in, take this survey. If you would like to share your story, please reach out to Sommer Hines from CheckingIn at sommer@checkingin.co.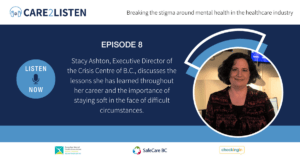 Stacy Ashton, executive director of the Crisis Centre of B.C., discusses the lessons she has learned throughout her career and the importance of staying soft in the face of difficult circumstances.
Listen now »