Care to Speak
A peer-based phone, text, and webchat service providing free and
confidential
support to health and social support workers in BC
Primary Care | Social Support Service
Long-Term Care | Community Care
We work in the community—just like you
We understand what you're going through. If you need someone to talk to—about anything—we are here.
Our conversation will stay confidential, and won't be shared with your employer.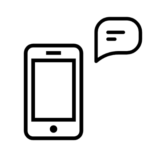 (Standard text message rates may apply)
Connect with us from Monday to Friday 9 a.m. to 9 p.m. Pacific Time.
Confidentiality
All interactions are confidential, unless there is a risk of harm to yourself or someone else. We also have a legal duty to report any actual or suspected child abuse or neglect.
The service is not affiliated with any union or employer. There is no intake process—health and social support workers can get support in minutes.
You are not alone | Your mental health matters
70% of healthcare workers have experienced negative mental health impacts since 2020;
89% who have used Care to Speak have reported an increased ability to cope.
Dr. Yuet Ting Ma, Pharm.D, RPh
"
"As a healthcare provider working in mental health and addictions, I believe Care to Speak is a great resource available to health care and social support workers to seek support from their peers. This pandemic has taken a massive toll on everyone's mental health, especially for healthcare providers. I am truly honoured to participate in this program as a volunteer and provide support to others in their mental health journey."
Wellness Program Coordinator
"
"I was able to reach out to help support myself when everything was so uncertain in the world. I appreciate what this service is doing in the community as it's difficult to reach out when you work in a profession supporting others."
Rehabilitation Specialist
"
"My experiences as a Care to Speak Peer Support Worker have been positive in that, I hope that it's a resource that health care workers don't need to access, but our reality is that this support is required. I'm grateful to be able to provide that opportunity to listen to my peers when they need it. I feel that a lot of the difficulties for healthcare workers are that sometimes friends and family members don't quite understand the challenges they face, or they aren't able to discuss their stressors due to privacy and confidentiality policies. Service users can reach out and know that the person on the other end is not going to judge them or try to give them advice. Regardless of why they've reached out, there's a level of mutual understanding and respect and I think that's what's great about the Care to Speak Peer Support program."
You'll talk or message with a Peer Supporter—someone who shares similar experiences. All our Peer Supporters are interviewed and trained by the Canadian Mental Health Association to provide meaningful support and resources.
Our Peer Supporters understand what it is like navigating complex and evolving situations, while offering emotional and mental health support during these unprecedented times. Our Peers are here to offer a deep level of empathy.
Anyone working within these facilities would fall within the healthcare and social services sectors.  However, keep in mind this list is not all inclusive and is here to give service users a general overview.
Examples of Healthcare Facilities
Addiction and Mental Health Treatment Facility  

 

Care Facility

  

 

COVID Response 

 

Doctors

 Office  

 

Home Health 

 

Hospice

/Palliative Care Homes  

 

Hospital/ Emergency Services 

 

In a Laboratory Setting 

 

Long-Term Care Facility  

 

Nursing 

Home  

 

Pharmacy

  

 

Public Health

 

Other

 
Examples of Social Services Facilities
Anyone working within these jobs or facilities would fall within the Social Services sector. However, keep in mind this list is not all inclusive and is here to give service users a general overview. 
Activity Worker  

 

Adult, Youth and /or Child Worker  

 

Child Care Consultant  

 

Child Care 

Resource and Referral Worker  

 

Community 

Worker  

 

Counselor/ Therapist 

 

Emergency Shelter Worker  

 

ESL Instructor  

 

Family Support Worker  

 

Group Facilitator  

 

Outreach 

Worker  

 

Residential 

Worker  

 

Social Worker

  

 

Special Services Worker  

 

Speech Language Pathologist  

 

Teacher/Teacher 

Assistant  

 

Transition House Worker  

 

Victim

 Service Worker  

 

Volunteer Coordinator/ Crisis Response

 

Other

 
Want to Become a Peer Supporter?
Volunteering as a Peer Supporter is a rewarding experience. You'll learn new, useful skills and support others in need. Mandatory requirements to be a Peer Supporter include:
Volunteers must live within British Columbia.
Volunteers must be working or have worked in the healthcare or social service sector.
Volunteers must be able to work one shift per week during operating hours (Monday to Friday from 9 a.m. to 9 p.m. Pacific Time).
Volunteers need their own computer and stable internet connection.
Volunteers also need to be 19+
New Updates
Care to Speak's hours have been extended. The service is now available Monday – Friday 9 a.m. – 9 p.m. Pacific Time.
Since the start of this Peer Support service, Care to Speak has supported over 300 British Columbians!
In a survey given to healthcare workers who accessed Care to Speak to manage their mental health, 93% of users say they would use the service again and 89% had an increased ability to cope.
The Care to Speak Peer Support service is now available to those working in the Social Services sector as well.
Starting February 1st, you can now TEXT the Peer Support number 1-866-802-7337 (PEER)
Privacy Policy
Your privacy is critically important to us. We only collect a bare minimum of data necessary to make improvements to Care to Speak Peer Support Services. All information collected is anonymized, and no personal information is collected or shared at any time. We store this anonymized visitor and website information for only as long as we have a reason to keep it.
If you have any questions about this Privacy Policy, please contact us.
Information We Collect Automatically
This collection of information occurs via the built-in analytics system of Google Analytics and Google Optimize; a website analytics service that we use to collect data from visits to https://careforcaregivers.ca/care-to-speak-2/.
Log Information. Like most online service providers, we collect information that web browsers, mobile devices, and servers typically make available, such as the browser type, IP address, unique device identifiers, language preference, referring site, the date and time of access, operating system, and mobile network information. We collect log information when you visit https://careforcaregivers.ca/care-to-speak-2/.
Usage Information. We collect information about your usage of our website. For example, we collect information about the actions that visitors perform on https://careforcaregivers.ca/care-to-speak-2/. We also collect information about what happens when you use the webpage (e.g., page views, button clicks) along with information about your device (e.g., mobile screen size, name of cellular network, and mobile device manufacturer). We use this information to, for example, provide our services to you, as well as get insights on how people use our website, so we can make our services better.
Location Information. When you visit https://careforcaregivers.ca/caretospeak/, we may determine the approximate location of your device from your IP address. We collect and use this information to, for example, calculate how many people visit our Services from certain geographic regions. However, note that we anonymize these data as far as possible. For instance, IP addresses are stored in the form of 192.168.xxx.xxx, that is, with the last 6 numbers anonymized. This prevents anyone who has access to these data (including us) to reliably track down your exact location.
Information from Cookies & Other Technologies: A cookie is a string of information that a website stores on a visitor's computer, and that the visitor's browser provides to the website each time the visitor returns. Phone tracking numbers are identifiers that help us determine the effectiveness of webpage design in increasing service engagements. Our website use cookies and other technologies like phone tracking to help us identify and track visitors, usage, and access preferences, as well as track and understand webpage design effectiveness and to deliver the best possible content. For more information about our use of cookies and other technologies for tracking, including how you can control the use of cookies, please see here for information on WordPress.com. WordPress is the content management system that https://careforcaregivers.ca/caretospeak/ is based on.
How We Use Information
We use information about you as mentioned above and as follows:
To provide our Peer Support Services – for example, to set up and maintain our peer support services in the most useful way;
To further develop our Peer Support Services – for example by adding new features that we believe our users will enjoy or will help them to use https://careforcaregivers.ca/caretospeak/ more efficiently; and
To monitor and analyze trends and better understand how users interact with the website, which helps us improve our Peer Support Services and make them easier to use
Contact us
Tyler Thomas (He/Him/His)
Care to Speak Facilitator  
---
Harjinder Janda (She/Her/Hers)
Care to Speak Coordinator