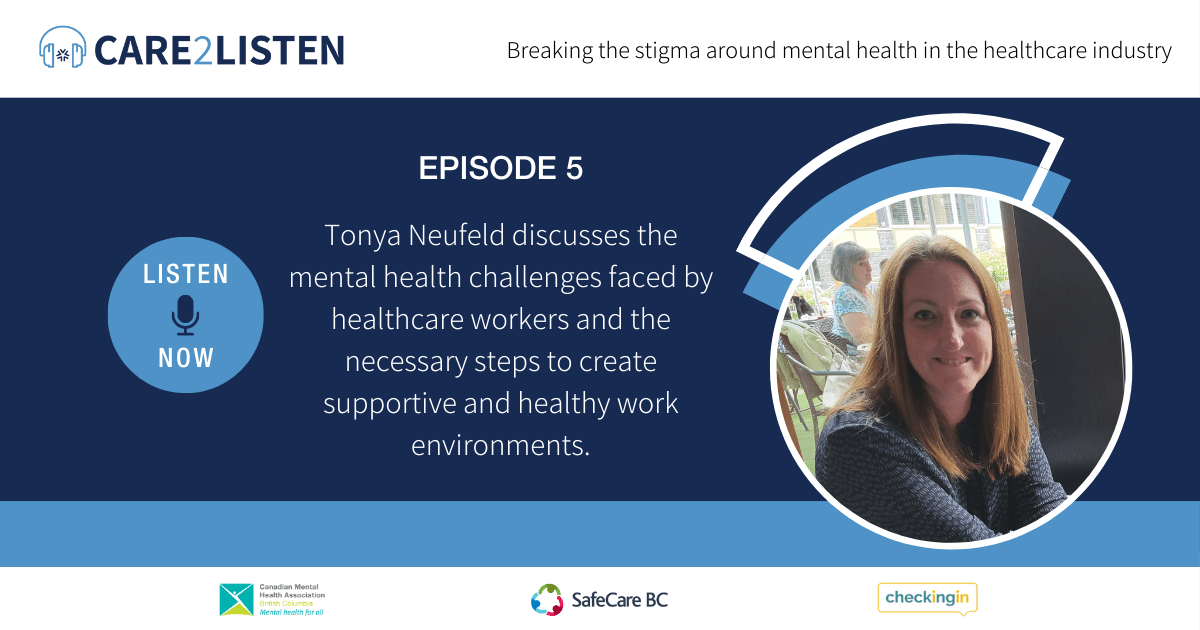 Episode 5 | Tonya Neufeld
Tonya Neufeld discusses the mental health challenges faced by healthcare workers and the necessary steps to create supportive and healthy work environments.
Take this survey to let us know what topics you're interested in. If you want to share your story, please get in touch with Sommer Hines from CheckingIn at sommer@checkingin.co.
Resources
This podcast is brought to you by: 
Transcript
Sean Burke: [00:00:00]
Welcome to the Care2Listen podcast, where we interview frontline workers and healthcare experts who will share their stories and passions. This is a podcast to let you know that you're not alone. The goal of this series is to reduce the mental health stigma in healthcare and provide accessible support for caregivers just like yourself.
This episode is brought to you by the Care for Caregivers, peer support line Care to Speak. Care to Speak is a peer-based phone, text, and web chat service that provides free and confidential support to health and social support workers in BC. Connect with us Monday to Friday from 9:00 AM to 9:00 PM Pacific Time. Text or call 1–866–802–7337 or visit our website by googling Care to Speak to chat with us.
This podcast discusses topics that may be triggering for some viewers, including suicide and postpartum depression.
Today's episode is being broadcasted to you on the unceded and traditional territories of the Musqueam (xʷməθkʷəy̓əm), Squamish (Sḵwx̱wú7mesh Úxwumixw), and 
Tsleil-Waututh (səl̓ilw̓ətaʔɬ) Nations.
Sean Burke: Welcome back to another episode of the Care2Listen podcast. Today, joining me is Tanya Neufeld. She is the HCA (Health Care Aide) lead at Menno Hospital and has over 30 years of healthcare experience. So welcome to the show today.
Tonya Neufeld: Thank you for having me. I'm humbled to be here.
Sean Burke: Yeah. Well, you know, we're grateful for you for sharing your stories, your wisdom, your experience, and I guess just to kick it off: what motivated you to get into the healthcare industry in the first place?
Tonya Neufeld: Um, I started as a young teenager in high school working at A&W and I worked the morning shift and a lot of the regular seniors would come in and I would memorize their orders and I just loved engaging with them. And I thought, oh, this is just something I could see myself doing for a long time.
Never did I think it would be 30 plus years, but [00:02:00] definitely it's always been a passion of mine.
Sean Burke: Totally fast forward and where did that time go? Well, and what's interesting too is that with your most recent role as the HCA lead. This is quite a unique role. Um, maybe could you share just a little bit about what this role is?
Tonya Neufeld: Um, so the role was introduced. They had been talking about it for a while, wanting something like this at my site. And, I've been a shop steward for most of my 30 years and been involved in the union and social activism. And, when they posted it, I thought, oh, I wonder if I could do that.
And, and so what the role entailed is just being basically a support person on the floor, taking a step away from the personal care, but being involved with part of the care [00:03:00] planning and really encouraging and promoting resident and family centered care, which is Menno's motto. So that is something that they really strive for.
So when I meet with the care aides, if they're having a struggle with some sort of care plan, I can kind of be a liaison with management and myself to see how we can work through those struggles and make sure everybody's comfortable, whether it's an OH&S (Occupational Health & Safety) issue, a safety issue, or whether it's a personal preference
based on what the resident wants. 
I'm also there to support conflict resolution. If two coworkers are having a disagreement about something, I can come in and facilitate a conversation between the two of them,  it doesn't have to escalate and go to management.
Sean Burke: So much of the conversation around incivility or [00:04:00] helping people have those conversations to progress forward and heal teams. I think it's such an  important role. And what are some of those things that you're hearing? Some of the more consistent themes that are coming through in today's day?
Tonya Neufeld: Over the years, you know, we tend to not want to restrain the residents with medications. I feel like there's a lot more, um, mental health issues within residents  alongside dementia or their other illnesses. So there's a whole concoction of what residents are dealing with, which causes a lot of violence behaviors, and a lot of times the  HCAs are on the receiving end of those behaviors.
So that's one thing. Um, staff struggling with addictions and trying to manage that plus also home relationships. You know, you [00:05:00] come to work and you're caring for  residents all day and their needs, and then you have to go home and you have to take care of your family's needs. And when do you take care of yourself?
We always seem to put ourselves on the back burner and rarely tend to put ourselves as a priority.
Sean Burke: We often can physically see when there's been a physical altercation or something. But when it comes to psychological safety in the workplace, you know, you can't see it.
And that becomes an even bigger challenge than when we're trying to support those care workers and make sure that they get the resources and again, the support that they  need. So maybe just kind of turning the conversation a little bit to more of some of your personal experiences. I'm curious how mental health through your career has showed up for you.
Tonya Neufeld: The first incident that I ever had [00:06:00] with a mental health crisis, I would probably say was in the early two thousands after I took a shot for birth control, a Depo-Provera shot, which triggered a hormonal reaction. I started having some issues. Not only was I feeling cold all the time, um, I was also having paranoid thoughts.
I thought that people were talking about me and I was struggling to come into work, but I kept pushing myself. And then one day I was taking care of a resident that was a little bit more difficult and demanding, which is a huge part of our job. And I lost it [00:07:00] and I just stopped and I turned around and I left the room and I went up to the nurse's  station and I was just like shaking. And I said, I need to go home. I need to go home. I can't stay here. And I was scared because I would never talk to a resident like that, that  was something that was very scary for me.
I've always tried to treat them with respect and dignity, and that was very disrespectful for me to talk to him like that. So I didn't return to work after that, I was getting put on medication and I got put on several different types of medication. I think the first one was Prozac and Clonazepam and something else. 
And each time it triggered a different mental state. [00:08:00] There were all sorts of issues and it was hard for my family. I almost was admitted to CRESST (community residential short stay and treatment) house, is what the mental health worker said, in Abbotsford. To try and take me off of everything and then try and restart because the shot is in your system for three months and has to kind of gradually come out. I couldn't go back to work until that had been resolved. 
And then when I did go back to work and met with my head nurse at the time, I talked to her about the situation and how regretful I was about what I had done to the resident  and felt bad about it. I just remember her really encouraging me and saying [00:09:00] that she was really glad that I was able to reflect on myself and take myself out of that  space rather than trying to push myself to be there out of taking care of somebody else and took care of myself.
Sean Burke: Well, what a powerful story and thank you for sharing. I think, you know, when we hear lived experiences of people who have gone through what you just shared  with us. One, it takes courage to be able to share that with others. Two, knowing that you were able to get that space that you needed to then ultimately come back and have  that conversation and get the support from your colleague, that's a really positive statement. 
When you were going through the episode, what was it like physically in your body? How was that kind of showing up?
Tonya Neufeld: When I would go into work, it was like I'd sit in my car and it was almost like I had to push myself cuz it was [00:10:00] like, I don't wanna go in there, I don't  wanna go in there. And I would kind of have a little bit of anxiety and then I would go into work. And I've always really enjoyed my work, and it was a struggle. I remember, you know, taking care of him and he just, he felt really like it was just coming down on me and I just felt like I couldn't take it anymore.
And so I guess hence my reaction. I don't know what that exactly was, because I have had a panic attack later, and that was a very different situation that was also very scary, but didn't feel to the extreme of this one.
I think it was maybe, yeah, some anxiety and like you're asking so much of me and I have other work to do and I just felt that super tension.
Sean Burke: Well, and and when you were then having that discussion, reflecting back on the situation, was there [00:11:00] ever any moment that leading up to the incident that you actually were like, okay, maybe something isn't right or did it all just happen all at once? 
Tonya Neufeld: It did feel that something wasn't right and I did go to my doctor and he was giving me medication.
Um, so I think at that first time they were trying to give me medication. But of course, everything they put me on, I would have all the side effects. At one point they had put me on something and I was obsessive compulsive. I was cleaning my house like a fanatic. Just doing that all the time. 
I don't even know how I took care of my two young children, and my husband at that time would come home from work and I would wake up on the dining room floor and he had put a blanket over me so he would come home at lunch and I just, I guess I would just put [00:12:00] myself working cleaning until I got exhausted. 
I was really glad I wasn't at work and I got a lot of support through mental health in Abbotsford at that time. So I was really grateful for that. And my husband was, supportive
at that time, even though initially he didn't understand. 
Um, going back to work after was a real struggle cuz it was like, what are people gonna think of me? The stigma around mental health. I remember one person coming up to me and said, so what did you have a nervous breakdown? I felt a little bit embarrassed and I felt I didn't really wanna be explaining it. And I just felt like this is not a person I would go to for support, hence why I went to my head nurse and she was able to be that person for me to support me. 
Sean Burke: How did you know that she was the one to go to? 
Tonya Neufeld: [00:13:00] She'd always been really encouraging and really a good listener. I did have a lot of my coworkers that were a huge support. So anytime my doctor would change my medication, they'd look it up and they'd say, okay, what are you feeling?
And I'd start telling them and they'd be like, oh, you're having all these side effects, like maybe you should go figure something else out. It was good to have coworkers, but it was also good to have somebody that was kind of my boss that I could confide in, that, um, I knew I wasn't in trouble, that she was there to support me.
Sean Burke: When your colleagues were asking you questions around like, you know, did you have a nervous breakdown or, you know, what was going on? How did you respond in that situation to them? 
Tonya Neufeld: I remember when she came and she said that, and I just kind of [00:14:00] said, no, no, that's not really what happened, I had a reaction to a medication.
I guess I kind of downplayed it rather than actually having a conversation, which is something I would probably do now. I'm way more open about having a conversation about that. At that time. It was kind of my first real struggle that I didn't really know how to react.
You know, I was a bit embarrassed, you know, what people would think about me. So, I think I just kind of downplayed it a little bit more than I would now.
Sean Burke: Being in your role now where you're supporting people and working through some of the challenges, maybe they're experiencing, how did that specific experience help you now in the role that you're doing to support others?
Tonya Neufeld: I am somebody who likes to tell stories and reflect on my experiences to connect with people. [00:15:00] Um, so actually leading up into this podcast, I, um, was
talking to some of them, at a team morning huddle and I said, oh, I'm gonna be doing this podcast. And, uh, started talking about mental health and awareness and started talking about how I have had my own struggles and that we should be here to support each other. And I just kind of started telling a story and I said, as some of you may or may not know right now, I am on antidepressants. I'm not afraid to say that.
And you know, I have my struggles too. You may think, as the HCA lead, that I have it all together but I have my struggles as well. And I actually had one of my coworkers come up to me later and start talking to me about how she had been struggling very recently and [00:16:00] just wanted to talk and was sharing some of her experience in the most
recent months. I felt like this is why I need to come out and be open and be vulnerable and talk about it because I can be a support to somebody.
Sean Burke: Absolutely, and when we hear so much of previous episode, the title Healthcare Heroes are Human too. That doesn't mean that being that hero for someone else, you're not going through your own journey. It's awesome to hear that you were able to support, reduce the stigma, share your story, and then here once again we're doing it  today. 
From your career progression, and then as you sort of continued and got through this first example of mental health and how it showed up in the workplace. Do you have any  others that [00:17:00] happened later on in your career? 
Tonya Neufeld: While I was pregnant, I ended up having, uh, I felt really angry all the time and I'm usually a fairly happy person.
I was feeling really angry all the time and I even had some thoughts of killing my husband. I thought it was okay in a way because I was like, I will do it nicely. I just will slowly
squeeze the air when he's sleeping. I don't know if I would've actually acted on it, but the thoughts of it were alarming.
So I ended up seeing a Psychiatrist at Women's and Children's for prenatal depression and ended up getting put on medication and that helped [00:18:00] and going in once a
month, I believe it was, or every two weeks for a checkup. And, my midwife at that time was aware, and my doctor, so there was a lot of support in that area. But, I couldn't work at that time either. I realized that that was probably not a safe place for me to be. So, yeah. And then once my son was born, it was almost like all those feelings kind of just left with him and they kept me on the medication for six months after and then slowly weaned me off, still under the care of the psychiatrist at Women's and Children's. 
So yeah, that was another scary boat. And, I figure that hormones are not my friend.
You know, now probably going through menopause. My alert [00:19:00] is quite heightened to anything that might feel off. So I know my doctor, we've talked about taking me off the antidepressants and I'm like, no, no, I feel good. I feel good. We don't need to mess with a good thing.
Cuz I'm actually kind of scared what that would mean. 
Sean Burke: Was there ever a point where you were thinking those thoughts and not going to share them with anyone?
Tonya Neufeld: It's very strange. And even as I'm talking and thinking about situations through my journey that have been kind of alarming. I remember telling my best friend  once, like, I just feel like I wanna be in a room and just rock back and forth.
And she was like, that sounds very strange, and we started talking about it and yeah I felt like I just, that's where I wanted to be. I didn't wanna be with any stimulation or anything. I just wanted to be in [00:20:00] a room by myself and rock back and forth.
I can't explain it now because it feels strange to think that I thought that way. But, that was my reality at the time.
Sean Burke: And so now being in a role where you get to support others who may be in similar situations with similar thoughts or feelings or emotions. How do you sort of  address and how do you work to support your colleagues who are going through difficult times?
Tonya Neufeld: I give them what I know is available at this stage. So I suggest Care to Speak, that is a peer support group through SafeCare BC. We also have a program through our work site that offers counseling or any sort of help along those lines, which I feel like we [00:21:00] should utilize. 
We go to a doctor, well, some of us more readily than others, when we're feeling, like you said, something's wrong with us physically, but I think it's something that we should reach out more just for our mental state. That shouldn't need to get to the point where it's like critical or really bad for us to say, Hey, I need somebody to talk to.
And I've told them I'm always there to support them. If they need somebody, they feel they need somebody to talk to, they can reach out to me. And I always just tell them, you guys take care of everybody, always remember to take care of yourself. You know, don't feel guilty about taking care of yourself and giving yourself some self care.
Sean Burke: And the interesting part of that is it's much easier said than done. You know, you hear the stories of people, I'd love to go and, you know, check out for 10 minutes, but I can't. I got a million things to do. 
Tonya Neufeld: I just say, what's a priority? You know, there's things that aren't the [00:22:00] priority that you can leave. 
Nobody's gonna suffer because it's not done: putting out the laundry. Nobody's gonna suffer if that's not done. Oh, it might be an inconvenience for the next shift, or somebody else who goes to hang up the laundry and there's extra there, it hasn't been put out, or you don't make your beds.
Like really, it's not anything that's not gonna get done. It always gets done. So when we're looking at taking care of the residents, I'm always like those things, safety. Safety is always number one. But sometimes there's things that you can leave that are not really important. They're not a priority.
If I'm having a conflict with you and I need to go take a little walk, I'd rather you take a little walk than carry that into another resident's room. [00:23:00] Because then you're not gonna be the best that you can be for them. 
Sean Burke: And on the topic of conflict, I mean, it often can occur either between the patient or with other healthcare workers.
You have
worked and helped people navigate and overcome some of that conflict. What are some of the tools and conversations that you're having when working with people on that?
Tonya Neufeld: I usually try to encourage people to deal with it in the moment. And when I say the moment, I don't mean that exact moment, but like in that shift or the next day, don't let it linger.
You know, there's been where somebody's approached me and said, can I talk to you for a minute? I had this conflict with this other person today, and it's left me feeling really uncomfortable with the relationship, and I want to resolve this. And then I offer, would you like to have a conversation with [00:24:00] that person?
And I can sit in, and they will sometimes agree to that. Sometimes they just want somebody to talk to. But I have facilitated those conversations. So then I go and I talk, I pull the other person aside. You always have to pull the person aside, don't have conversations in public. And we'll have a conversation and I'll say, you know, this left this person feeling really uncomfortable. 
Can you tell me kind of what happened? How did that make you feel? And then they'll talk to me about it. Sometimes they'll be a little hesitant. And then I offer, would you mind: 
they really wanna have a conversation with you? I can sit in on it and make sure that it's done respectfully.
There's been times they agree, and so I have the two of them in the room and then I set down the ground rules. So I tell them, because the one who brought the issue to me, I say she will speak first and, [00:25:00] and you will listen and try to hear what she's saying and how the situation made her feel, and then it will be your turn.
And then I expect the other person to listen and give them that space to say how they feel, and then we kind of have a conversation after. I say, did you hear how she felt? Did  you hear that she's very person-centered care, and when you had made this comment how that was a trigger for her. It can really help realize it's just kind of a misunderstanding or a heated moment and, most times than not, they will go back and it's done and it's a good relationship.
I try to tell people, I would rather, when there's an issue in the workplace and if they don't feel like they can resolve it, to phone the Care to Speak hotline with SafeCare and have [00:26:00] those discussions with somebody who is outside of the workplace.
Don't involve your coworkers because people will pick sides or it will spread, or it just causes barriers in the workplace. And I said, we don't want barriers. We wanna keep those walls down. You know, there's things that, yes, you have to communicate with your team as far as residents go and if there is a safety issue with somebody, then definitely that needs to go to a manager. But when it's just two people having a conflict, don't be gossiping and sharing that with everybody. 

Sean Burke: So often we see when people remove the ability of calling or placing the blame on somebody else, but instead talk about the behavior that's causing a certain  feeling, then right away it takes that air out of the tense situation.
It sounds like so much of the work that you're doing is helping to promote those healthy [00:27:00] conversations and increase communication, which is so important, so, such important work you're doing. 
I'm curious when it comes to a healthcare worker putting up their  hand and saying, "Hey, you know what, I'm struggling."
There's often stigma associated, whether it is this specific industry, or in general across all industries. And I'm curious what type of stigma you see in the workplace and what we can do to reduce that stigma. 
Tonya Neufeld: I think that there's a lot of stigma around that. Based on like you're weak or you're a failure. 15 years ago, we had a coworker commit suicide at my site. And I had worked with him for 15 years and he was pretty much loved by all. And I feel like there was times where he was reaching out for help. And he did reach out for help and I [00:28:00] think he was let down in that area as far as the medical system. I remember us having a conversation cuz it was all anybody could think about in the lunchroom and stuff. 
And,there was a lot of anger and there, you know, people were mad at him and, you know, "I'm really mad. That was selfish." And, I remember thinking wow, those are really strong feelings to feel about somebody who has just taken their life. I felt like for myself, how hard it must have been for him to feel like that was the only way that he could find relief. He must have been really, really struggling.
There's a process of what is happening in your mind that is drawing you to that the only option to ease the pain and because it is very [00:29:00] painful going through mental  health problems and mental illness is extremely painful. You just don't know what's wrong with your head.
It's not something you can snap out of because a lot of people think, oh, you just change your thought pattern, or you can just snap out of it or just change the way you're  thinking or think happy thoughts. That's not the reality and I feel like if you are somebody that's struggling with mental illness, I think it's important to find somebody who  understands or is empathetic to that and those are your people.
The people that don't understand have never experienced it or anything, they're not gonna understand. They're not gonna have empathy for you. They're not gonna have the  compassion because those are their thought patterns. That, you know, you can snap out of it or what's wrong with you, why don't you just, you know. [00:30:00] And a lot of 
people try and hide it.
A lot of the suicides we've seen race recently, you know, people that it feels like it's out of the blue, but I'm sure that person was struggling for a long time and was just trying to cover it up. So, I think breaking the stigma and myself openly talking about it and bringing it up like it's any other conversation.
If somebody is feeling like they need to reach out, they will seek me out and they may not feel comfortable about talking about their own issues in front of other people, but they  definitely will know that I'm there for them if they need to have a conversation.  
Sean Burke: First of all, I'm sorry to hear about the loss and having to deal with the tragedy in coming together as a team and having to navigate through that.[00:31:00]

It's never easy. When we start talking about it more and more and trying to understand, okay, how could we support somebody who is getting to a state at that level, um, it's  difficult. And it's uncomfortable. And I think you bringing it up here today and talking about it shines more light on it.
And when we can shine light in the darkness, then there's an opportunity to provide hope for people. And so, again, I just commend you for being able to share that. And if there  is anyone out there who is struggling in silence, just reinforcing that norm around you're not alone.
There's others just like you, and there's always hope. There's always supports.
Tonya Neufeld: And
medication's not a bad thing. I know so many people too who are like, I don't wanna be on medication. And I was [00:32:00] probably one of those people in my life where it's  like, no, no, no. But, it can be something that's necessary. So, just seeking out that help with a healthcare professional is the first step. 
Sean Burke: And the work that you're doing today to continue to provide those safe places for people to have those conversations, again, is a strong testament to the work that you're doing and the much needed work.
As you share more and more about your role and the impact that it's making. I'm curious, why is this role not in every hospital or care home? Do you have any thoughts on that?
Tonya Neufeld: I don't feel that this role could just be something that you could put anybody into. I have taken a lot of education on my own. I've done a lot of surge learning through the union. [00:33:00] I've taken a lot of training on equity and inclusiveness. I've taken communication courses Through SafeCare BC, whenever they offer free courses, I sign myself up. I just really am drawn to educating myself to be better at what I do.
I'm still learning, but I'm a very strong advocate for equality and social justice. So I don't know if that might help me when I'm thinking about my workplace, it's not about who my
friend group is, let's say, it's about what is the greater good for everybody. What is gonna benefit the majority of the people, not just say, this will work for these people, but  they're my friends.
It's [00:34:00] about what is for the greater good of all. It is kind of where my mindset goes. It's more about objective rather than say feelings. But then there is the empathetic part when it comes to supporting people and hearing what people say and listening and feeling. They feel like they're, they're heard and they have somebody in their corner.
Sean Burke: Well, Tonya, thank you very much for coming in today. Your lived experience is something that hopefully a lot of the listeners can learn from and can understand that they're not alone. There's supports out there, there's help, and that someone like yourself in your role is really there to support them and make a difference.
So thank you for sharing and coming in today.
Tonya Neufeld: Thank you very much for having me.
Sean Burke: Thanks for listening to this episode. Be sure to visit the links in the show notes for more resources and supports for the Care for Caregivers program. If you're  interested [00:35:00] in sharing your story on the Care2Listen podcast, please reach out to us at careforcaregivers.ca/podcast, and don't forget to follow us on your favorite
podcast platform to be notified of when new episodes are released.
Thanks again for joining us and see you next month.